Skip to Content
Brevard Health Alliance: Florida's Foot Specialists
Brevard Health Alliance proudly offers podiatry care in Brevard County at two conveniently located offices in Rockledge and Melbourne. We serve all the cities throughout the county including Cocoa, Malabar, Palm Bay, Titusville, Melbourne, and Rockledge, FL. Our podiatric physicians can treat a wide array of foot and ankle conditions. Whether you have chronic pain or an injury, our foot doctors can help you get back on your feet. Healthy feet are attainable at our offices. We strive to make our patients feel comfortable when they visit us. Our staff goes the extra mile to ensure all of your concerns are addressed when you come to our office.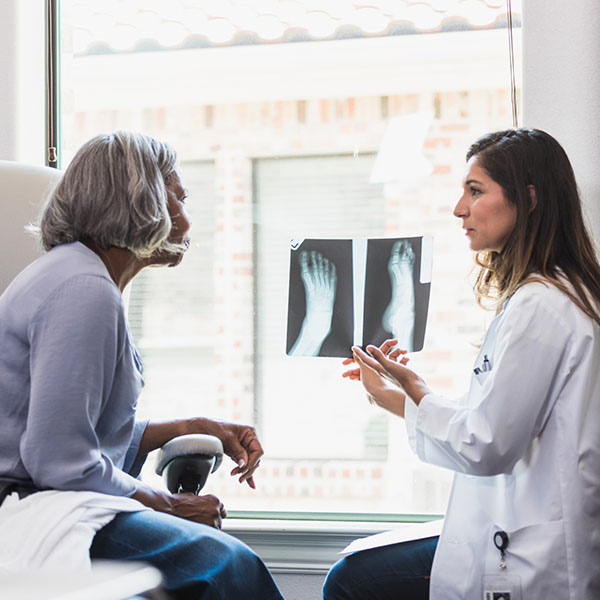 What Is a Podiatrist?
A podiatrist is a physician who specializes in conditions that affect the foot and ankle including the lower legs. Podiatrists are often referred to as podiatric physicians or doctors of podiatric medicine and undergo similar educational programs as MDs and DOs including three-year surgical residencies. Many Podiatrists offer both conservative and surgical services including inpatient care to treat ailments and diseases of the foot and ankle. At the Brevard Health Alliance, our podiatry team focuses on outpatient, non-surgical treatment of the foot and ankle. They are Board certified by the American Board of Podiatric Medicine and serve patients that experience all kinds of different foot problems. It is important that you visit us when you experience foot pain as it could be a sign of an underlying condition.
The Conditions Our Podiatrists Treat
In addition to the other services, Brevard Health Alliance provides, our foot and ankle doctors treat a wide variety of podiatric conditions in order to make our services as inclusive as possible. Your feet do a lot of work, probably more than you realize. Since they are always working, it is vital that they stay in good health. With our services, we can nurse your feet back to health and correct any outstanding conditions you may be experiencing. When you visit our Podiatrists, we will examine your lower legs, ankles, feet, and toenails. After an examination, we will discuss a treatment plan catered to you and your needs. If surgical intervention is appropriate, our team can also place a surgical consultation and help you find a surgeon in the area. Included in the conditions that our foot specialists treat are:
Diabetes-Related Conditions
Individuals with diabetes often experience foot problems caused by neuropathy and poor circulation. Our foot doctors can treat diabetic wounds and neuropathy while also providing regular foot check-ups.
Ulcers and Sores
Foot ulcers and sores are open areas on the foot that are usually accompanied by pain and discomfort. Our treatment team will come up with a plan to heal these unwanted areas.
Bunions and Hammertoes
Bunions and hammertoes are problems associated with the bones in your feet. Bunions occur when the joint at the big toe grows larger or is out of place. A hammertoe is a toe that does not bend in the correct direction. Without treatment, these conditions can progressively get worse.
Calluses
Calluses are thick and hardened areas of the skin on your feet. Calluses are often signs of another underlying problem. Our foot doctors will examine your skin and feet to determine the cause of your calluses.
Nail Disorders
Nail disorders such as fungal infections and ingrown toenails can cause pain and discomfort when walking or wearing shoes. Our doctors will identify the cause of your nail disorder and treat them appropriately.
Heel Spurs
Heel spurs occur as a byproduct of plantar fasciitis. Plantar fasciitis is inflammation of the tissue between your heels and your toes. When a spur, or bony projection, becomes present that is when it is called a heel spur.
Foot Deformities
We treat a variety of foot deformities including those caused by different types of arthritis such as osteoarthritis, rheumatoid arthritis and psoriatic arthritis.
Sprains and Strains
Sprains and strains are soft tissue injuries and often involve the ligaments in the foot or ankle. We can treat foot and ankle sprains and strains of different origins in our offices.
Sports-Related Injuries
Athletes are prone to injuring their feet and ankles. Our foot specialists can treat a variety of sports-related injuries including fractures, tears, and dislocations.
Chronic Foot Pain
Chronic foot pain is pain that lasts for long periods of time. Chronic foot pain often has an underlying cause. Our doctors will be able to identify the cause and treat your symptoms effectively.
Arthritis
Arthritis is the result of inflammation, swelling, and wear and tear on your joints. Our podiatrists will treat your arthritis with a variety of options including medication, footwear, and more.
Chronic Inflammatory Conditions
There are various causes of chronic inflammatory conditions, one of which is plantar fasciitis. Consistent inflammation can cause discomfort and affect your ability to walk.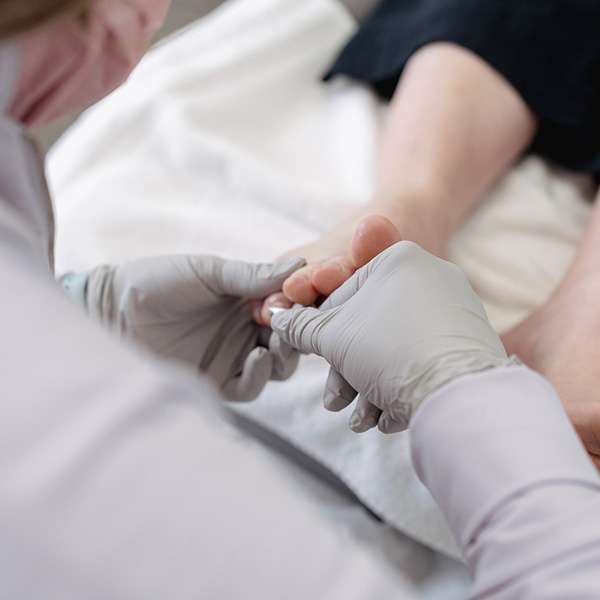 What to Expect When Visiting Our Podiatrists
When you visit our podiatrists at Brevard Health Alliance, it will be like visiting a normal doctor. They will go over your medical history with you and ask about any medications you're taking and any previous surgeries you have had. Our doctors will take the time to listen to your concerns and ask you about any pain or symptoms you are experiencing. Our foot doctors will inspect your feet and look at how you stand and walk. After the evaluation, we will come up with a treatment plan together. If you have symptoms and we can treat them in the office that same day, we will. Some procedures that can be provided in the office include steroid injection, joint aspirations, toenail procedures, and wound care. However, your new treatment plan looks, we will be sure to address your concerns.
Reach Out to Our Foot Specialists Today
When you visit Brevard Health Alliance, you are choosing the health and safety of your feet. Our foot and ankle doctors strive to provide comprehensive podiatry care in Brevard County and the surrounding areas so that you can get the care you need when you need it. We believe that everyone of all ages and financial backgrounds should have access to good foot health. That is why we provide high-quality podiatric prevention, diagnostics, and medical treatment at low costs. We are here to help you feel healthy and strong. Reach out to our team of foot specialists today to schedule an appointment at one of our locations.
Healthcare for You and Your Family